EMMA
---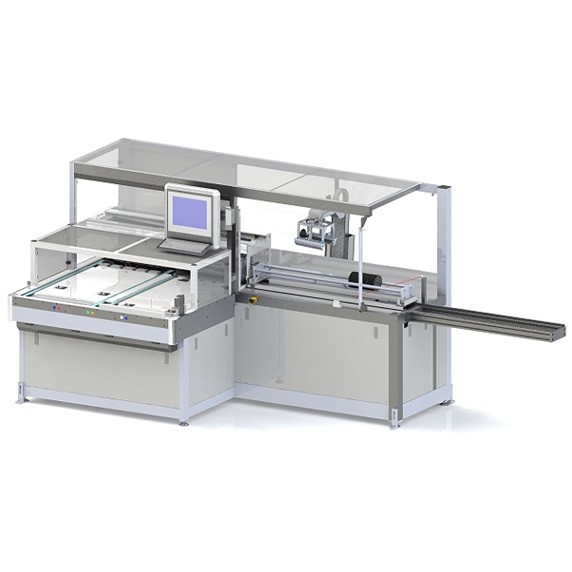 Product description
The EMMA system is a Full Automation for Diffusion Horizontal Furnace, loading/unloading wafer batches from cassettes to a long boat, and unloading/reloading boats from the furnace to the wafer transfer system.
The EMMA system consist of a Batch Wafer Transfer Sytem and a Load Station (not represented on picture)
The load station is including linear modules and scara robot,  designed to move full long boats safely and quickly, from the EMMA shuttle to any furnace paddles or cool down shelves.
The wafer transfer system unloads/reloads wafer batches from cassettes previously loaded on the conveyor, to the long boat dropped on the EMMA shuttle.
The EMMA system is entrely customized to meet your different cassettes, boats and wafers specifiucations needs, and to be compatible with your horizontal furnace model.
Key system features
Full Automation for Horizontal Furnace
Long boats loading (1200 slots 2.38 pitch)
Wafer size  6″ or 8″
Customized according customer cassettes, boats and wafers
Customized according customer furnace
Fast, clean, reliable and accurate
Standard features ready to operate includes:
Peek material for pushers, retainers and boat adaptors
Double cassette/boat sensors
Wafer presence detection into cassette/boat
Current limit on all motors
Power "off" security
Automatic home position
Historical data recorded (error messages data time)
Clean room color paper documentation
Performance:
Cycle time to unload/reload  one boat on paddle:  <30mn
Breakage rate: < 1 pour 5.105
MTBF: >4000hrs
MTBA: 750 hrs
MTTR: < 1hr
MTTA: 0.005hr
Facilities and Requirements
Power: 110-220 Vac
Frequency: 50-60 Hz
Compressed air: 8 bar