GEMINI Aligner
---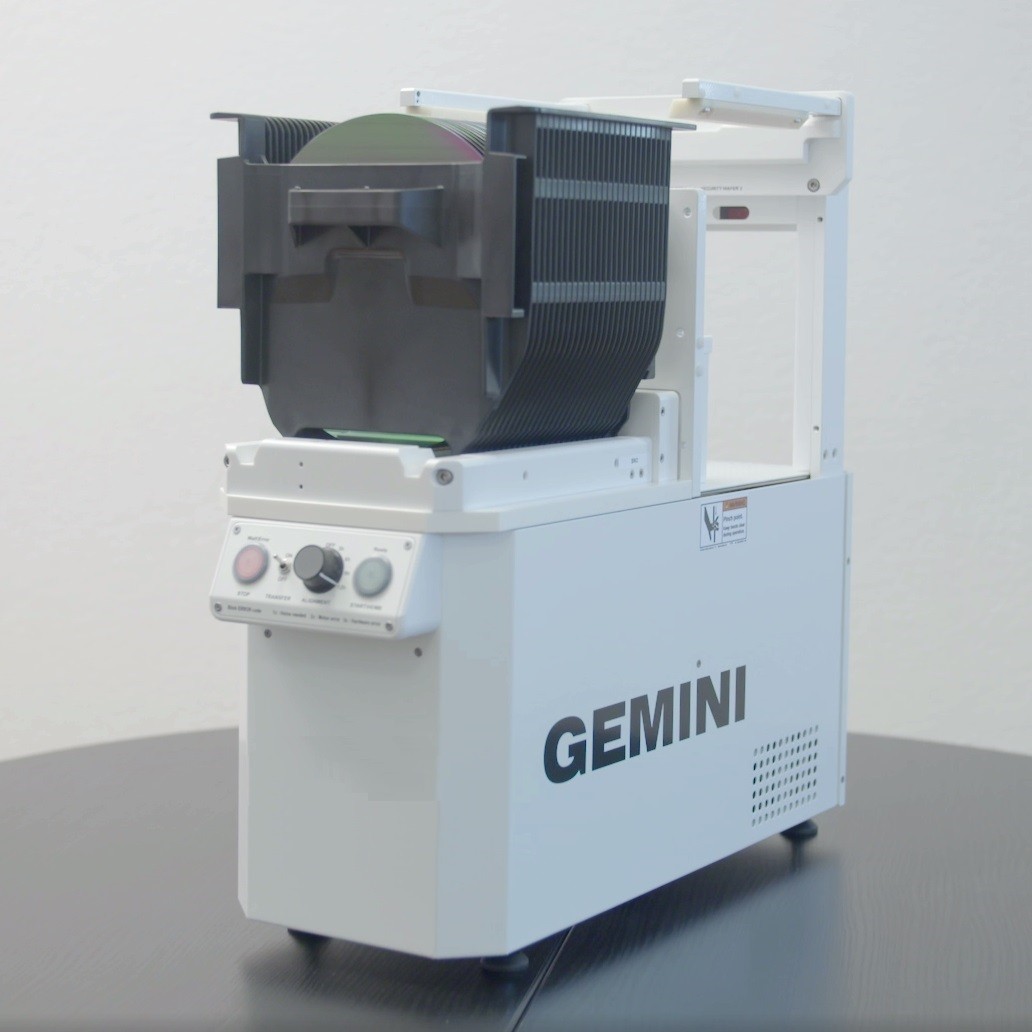 Product description
The GEMINI Aligner is a semi-automatic batch wafer transfer system with an integrated notch/flat aligner. With its vey small footprint, this tool can load and unload from cassette to cassette, a batch of wafers 6″ or 8″, thin or thick, of any substrate material.
Thanks to its front manual commands, the GEMINI Aligner can be used only for transfering wafers or for aligning Notch/Flat according the selected position, or both.
The GEMINI Aligner is customized to meet your different cassette and wafer specifications needs. Already compatible with all the most used cassettes and wafers on the semiconductor industries, the GEMINI Aligner can also be designed for special customers needs.
---
Product video
---
Product information
Key system features
Batch wafer transfer system
Cassette to cassette transfer
Wafer size 6″ & 8″
Customized according customer cassettes and wafers
Integrated Notch/Flat aligner
Selectable notch position button
Transfer ON/OFF button
Very small footprint
Standard features:
POM ESD pushers and retainers
Double cassette sensors
Ergonomic buttons (bigger and brighter)
Wafer detection in cassette
Wafer detection on head
Safety wafer detection if wafer down on head/Pusher
Current limiters on all motors
Electric safety device (current cut)
Power "off "security
Top pushers safety interlock
Open frame, designed for a vertical laminar flow
Automatic home position
Clean Room color paper and electronic PDF documentation
Specifications:
CE certification
SEMI Standard
Class 1
Facilities and Requirements:
Width: 204mm ; Depth: 551mm ; Height: 570mm
Weight: 12 kg
Power: 100-240 VAC
Frequency: 50-60 Hz
Full Load Amps: 1.2-0.6 A
Performance:
Total Cycle Time: < 1mn 30
MTBF: > 4000 hours
MTTR : < 1 hour
UPTIME > 99 %