LISA-AE
---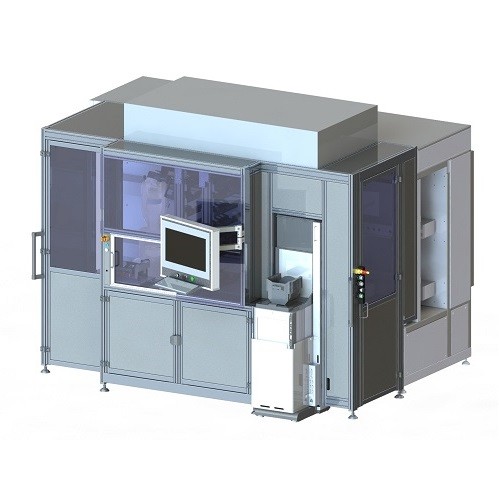 Product description
The LISA-AE (LIft Six Axes – Automation Embedded) system is a Full Automation for Horizontal Furnace, with a POD opener dock and a R2D COMET system integrated to transfer wafer batches from cassettes to boat, and using a 6 axis robot to load/unload boats to the furnace paddles.
To load the furnace, the operator place a POD opener at the dock and requests loading. Following, the arm from the POD will transfer the cassette to the COMET ( horizontal to vertical position), then the COMET transfers the wafer batch from the cassette to the boat. After wafer batch being transferred inside the boat, the 6 axis robot picks up the boat and put it on the
paddle. Reverse process for unloading. The empty boats are stored on a boat buffer integrated.
The LISA-AE system is entirely customized to meet your different cassettes, boats and wafers specifications needs, and to be compatible with your POD opener and Horizontal Furnace model.
SECS-GEM communication available.
Key system features
Full Automation for Diffusion Horizontal Furnace
Short boats loading
POD Opener dock
Batch wafer transfer from POD to boat
6 axis robot to load/unload boat to the furnace
Wafer size  6″ or 8″
SECS-GEM communication (SECS I or HSMS)
Customized according customer furnace and POD opener model
Customized according customer cassettes, boats and wafers
Fast, clean, reliable and accurate
COMET System features ready to operate includes:

Peek material for pushers, retainers and boat adaptors
LCD display indicating all cycle steps.
IR heat sensor
Double cassette/boat sensors
Carrier correctly positioned (mechanical)
Wafer presence detection into cassette/boat
Current limit on all motors
Power "off" security
Open frame, designed for a vertical laminar flow
Automatic home position
Historical data recorded (error messages data time)
Clean room color paper documentation
Performance:
Cycle time to unload/reload 6 boats on paddle:  <30mn
Breakage rate: < 1 pour 5.105
MTBF: >4000hrs
MTBA: 750 hrs
MTTR: < 1hr
MTTA: 0.005hr
Facilities and Requirements
Power: 110-220 Vac
Frequency: 50-60 Hz
Compressed air: 8 bar