COMET 3 station
---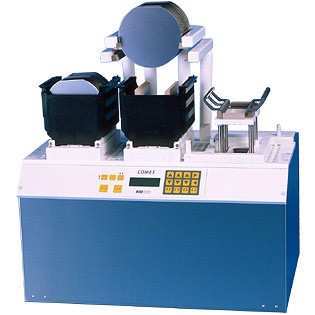 Product description
The COMET 3 station is the Operator's favorite mass wafer transfer system. This machine allows the transfer of batches of wafers 3″ to 8″, from cassette to cassette or to boat, according different process: 25 to 25 ; 25/25 to 50 ; 12/13 to 50.
Customized to meet your different cassettes, boats and wafers specifications needs, the COMET 3 station is fast, clean, reliable and accurate, and it saves valuable space thanks to its small footprint.
Simple to use and easy to maintain, the COMET 3 station is a one button system operation, fully automatic, free hand operating, set up and controlled manualy directly from the front panel keyboard. All electronic parts are compatible for all COMET machines.
Moreover , the COMET 3 station is compatible with SECS-GEM communication, SECSI or HSMS protocol, thanks to its R2S232 and TCP/IP communication port available on the rear side of the machine, and can be integrated in your process line (OEM customer), with Robotic arm and elevator.
Main skills
Batch wafer transfer from cassette to cassette or to boat
Transfer : 25 to 25 ; 25/25 to 50 ; 12/13 to 50.
Wafer size  3″ to  8″
SECS-GEM communication (SECS I or HSMS)
Customized according customer cassettes/ boats and wafers
Small footprint
Fast, clean, reliable and accurate
Standard features
Peek material for pushers, retainers and boat adaptors
LCD display indicating all cycle steps.
IR heat sensor
Double cassette/boat sensors
Carrier correctly positioned (mechanical)
Wafer presence detection into cassette/boat
Current limit on all motors
Power "off" security
Open frame, designed for a vertical laminar flow
Automatic home position
Historical data recorded (error messages data time)
Clean room color paper documentation
Software flexibility
Transfer parameters adjustable to reduce cycle time
Security sensor management
Specifications:
CE certification
SEMI Standard
Class 1
Performance
Cycle time without notch/flat alignment: <1mn

Cycle time with notch/flat alignment: <1mn30
Uptime: 99.8%
MTBF: > 4000hrs
MTBA: 750 hrs
MTTR: < 1hr
MTTA: 0.005 hr
Breakage rate: 1 for 5.105
Facilities and Requirements:
Width: 759mm ; Depth: 495mm ; Height: 752mm
Weight: 67 kg
Power: 100-240 VAC 75 watts
Frequency: 50-60 Hz
Full Load Amps: 1.2-0.6 A
No need for compressed air
Options
SECS/GEM : Machine includes SECS/GEM communication:  RS232 – E4 SECS I and Ethernet – E37 HSMS-SS (TCP/IP)
ESD: Electrostatic dissipation of the wafers thanks to ESD material of the parts touching wafers (combs)
Flat /Notch aligner: Integrated Flat or Notch aligner system.
Carrier BC Tag Reader: Fixed barcode reader device
Carrier RFID Tag Reader: Fixed RFID tag reader device
Tower Light: Three color tower light (green, orange, red)
Selectable notch/flat position: The position of notches/flat after alignment can be set thanks to a switch

Keyboard lock: Manual mode access are locked manually thanks to a key