HBT Stand Alone
---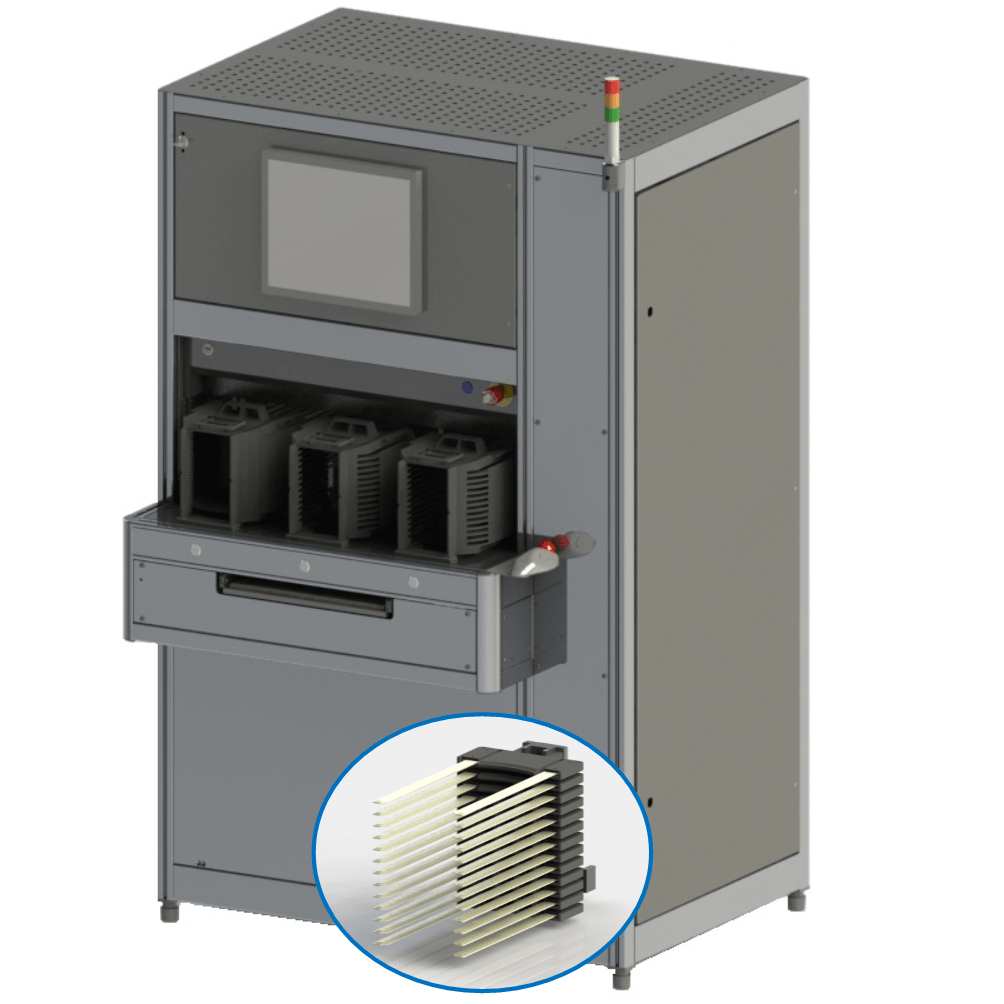 Product description
The HBT Stand Alone systems are Horizontal Batch Transfer machine allowing transfer in batches, batch splitting and merging.
These equipments are mainly required when the vertical batch transfer is unsafe, because of two main reason:
⇒ Significant warping of the wafers, with high risk of wafer breakage on batch splitting and merging transfer;
⇒ Cassette with insufisant or absent narrow bottom slot, when the position of the wafers in the slots does not allow them to be picked up correctly.
The HBT Stand Alone systems are the best solutions to transfer safely your wafer batches, even with warped wafers or special cassettes.
To transfer wafer batch, the machine is equipped with a gripper of 13 postions, with 2 edge contact ceramic finger for each position that ensure an accurate and safe handling of wafers.
Transfer available:
13 to 13
25 to 25
13+12 to 25,  and reverse
13 to 25 ODD,  and reverse
13 to 25 EVEN,  and reverse
Thanks to cassette kinds detection system and wafer mapping system, the user only have to drop his cassette to the load ports according his transfer need, select the thickness of the wafer to transfer and launch the mapping. Once the mapping done, the machine will only propose to the user the possible transfer to perform via the interface. The User only have to click on the interface to launch the requested transfer.
Moreover,  the HBT 3LP systems can be used on local mode or on remote mode thanks to SECS-GEM communication to the fab host (E30), and meet the requirements to be loaded/unloaded  by AVG/RVG, providing a E84 connection for each load ports to install PIO. (optional)
---
Product information
Key system features
Horizontal Batch Transfer system
2, 3 or 4 Load Ports
Batch copying, merging or splitting
Wafer edge contact gripper
Wafer size: 150mm OR 200mm
Wafer bow: ± 0.5 mm
Customized according customer cassettes and wafers
Standard features
Gripper: 13 positions with 2 edge contact ceramic finger for each position
12" color LCD Touchscreen + Keyboard
Automatic mapping system with cross slot/ double slots detection
Wafer detection in cassette
Current limiters on all motors
Error message and cycles recorded
Tower light
Clean Room and PDF documentation
Specifications
CE certification
SEMI Standard
Class 1
Options
Fan filter unit
Carrier TAG reader (RFID or Barcode)
Ionization system
E84 connection (PIO)
SECS/GEM E30 Host connection [HSMS]
Interface
Friendly and intuitive interface
Standard or customizable software
Wafer recorveries
Restart after error
Easy integration with other systems by SECII-GEM, ASCII, RS, TCPIP
Facilities and Requirements
Power: 207 Vac to 264Vac
Frequency: 47Hz to 63Hz
Full Load Amps: 2.5 A