Table Top Organizer
---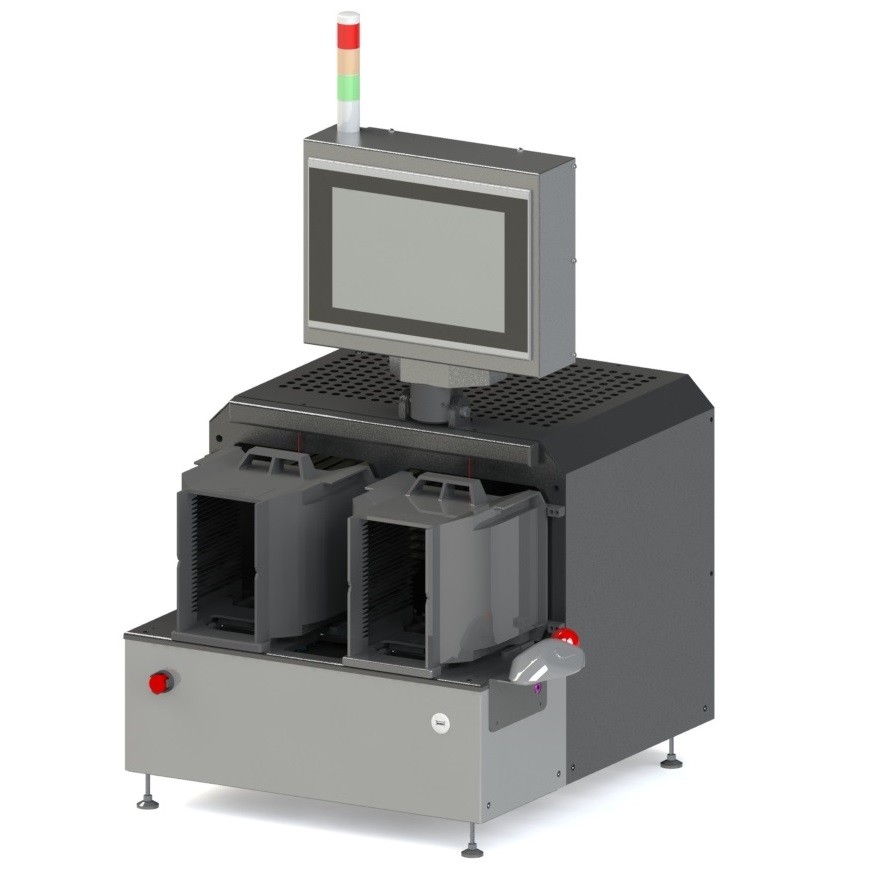 Product description
The Table Top Organizer is a single wafer pick & drop machine, transfering wafers within or between cassettes.
Under control of a touchscreen panel PC, all user commands and equipment maintenance are done through the smart R2D Automation interface. Moreover, the Table Top Organizer is also compatible with SECS/GEM communication,  TCP/IP – E37 HSMS-SS logical protocol, thanks to its Ethernet communication port available on the rear side of the machine.
Once cassettes placed on load ports, the Table Top Organizer maps cassettes, detecting wafers presence and position, detecting cross or double slots, and then report the result on the touch screen interface. Then, the user can perform pre-programmed recipes as randomization, compacting, completing, copying, or inverting recipes. The user can also create his own recipes and manually transfer the selected wafers. All transfers are instantly reported to the interface.
Customized according customer cassettes and wafers, the Table Top Organizer can handle 6″ and 8″ wafers on the same machine (automatic size detection), and is compatible with thin wafer up to 150µm on 6″, 180 on 8″, from various substrate materials. Depending on wafers warpage and customer requirements, we propose different shapes and materials of backside vacuum or edge contact end effectors, that will ensure the best safe handling of your wafers. The Table Top Organizer ensure a safe wafer handling through its numerous safety sensors active throughout the transfer,  detecting cassettes and wafers presence and placement at every stage.
---
Product video
---
Product information
Key system features
Cassettes organizer table top machine
Two load ports
Compatible 6″ and 8″ wafers (same machine)
Compatible thin wafer up to 180µm on 8″, 150 on 6″
End effector: backside vacumm or edge contact
Preprogrammed factory recipes (Randomization, Compacting, Completing, Copying and Inverting)
Customizable recipes
Manual transfer (Single wafer transfer)
Customized according customer cassettes and wafers
Standard features
12" color LCD Touchscreen
Automatic mapping system
Cross or double slots detection
Wafer detection in cassette
Current limiters on all motors
Error message and cycles recorded
Customizable Light Tower
SECS/GEM Host connection [Ethernet – TCP/IP – E37 HSMS-SS]
Clean Room and PDF documentation
Specifications
CE certification
SEMI Standard
Class 1
Software & Interface
Friendly and intuitive
Standard or customizable
Access level with passwords
Wafer recorveries
Restart after error
Easy integration with other systems by SECII-GEM, ASCII, RS, TCPIP
Performance
Troughput: From 350 WPH (thin wafers) to 600 WPH (std)
MTBF: > 4000 hours
MTTR: < 1hr
Uptime: > 99.8 %
Facilities and Requirements
Width: 620mm ; Depth: 640mm ; Height: 840mm
Weight: 45 kg
Power: 100-240 VAC
Frequency: 50-60 Hz
Full Load Amps: 2.5 A
Vacuum: -0.5 to -0.8 bar (Ø6mm)
Options:
Carrier BC Tag Reader: Barcode reader gun  device
Carrier RFID Tag Reader: Fixed RFID tag reader device